World Teachers' Day: meet some inspiring teachers who really make a difference
Days in the childhood development calendar, Teachers and learning
---
Every child has the right to be at school and get a quality education - these teachers are doing remarkable things to make that happen. 
---
Today is World Teachers' Day – and this year's theme is "The right to education means the right to a qualified teacher". 
The United Nations wants to remind the global community that the right to education cannot be achieved without the right to quality teachers being met. 
However, a shortage of teachers worldwide means there are 262 million children and youth still out of school. And if we are going to achieve the goal of universal primary and secondary education by 2030, almost 70 million new teachers will have to be recruited and trained.
Despite this "teacher gap" there are many incredible people working to provide free, quality education and inclusive access for all children. 
Meet some of our favourite inspiring teachers from around the world.
Alex Maina Kariuki, a head teacher who wears a school uniform
Alex Maina Kariuki is the principal of Friends School Kamusinga in Bungoma county, Kenya. Every day he turns up for school wearing the same uniform as his high school students!
"I put on school uniform to identify with the students, get to their level and be reachable," he said. 
Kariuki said he wore the uniform at his previous school on Mondays and Friday. But, after starting in his new role in January, he decided to go the whole way and put on the school shirt, tie, jersey, trousers and socks every day.
Hammad Safi, the 'little teacher'
Hammad Safi is already studying at university in Pakistan, where his talks are hugely popular on YouTube and paint a positive picture of his country. 
The motivational speaker is something of an internet sensation in Pakistan and regularly draws large crowds. 
But it's not just because of his infectious enthusiasm and engaging smile. It's also because he's only 11 years old.
Safi speaks into his wireless microphone, his hand gestures practised and his confidence unwavering as he addresses his elders at the University of Spoken English (USECS) in the northwestern city of Peshawar. Learn more about the boy known as "little teacher".
Andria Zafirakou, Global Teacher Prize winner who tackled gang violence
Andria Zafirakou faced a variety of issues including gang violence, impoverished backgrounds and multiple languages when she became a teacher in inner-city London.
But that didn't daunt her. Throughout Alperton Community School and in the Brent streets beyond, she started to drive change.
She worked with the police on the gangs problem. Came up with a new curriculum to encourage an ethnically-diverse student population. Learned the basics of many of the languages.
Andria's amazing efforts were rewarded when she won the $1 million Global Teacher Prize for 2018 at a ceremony in Dubai in March.
Maya Vakfi, Turkish teachers helping traumatised refugee children
Maya Vakfi's "Trauma-Informed Schools" programme is run with the education ministry in schools and temporary education centres. Trauma training on how to help Syrian refugee children is provided for teachers, counsellors, families and school staff in Turkey.
"Trauma can impair learning and academic success," explained project co-ordinator and clinical psychologist Tennur Katgı. "Teachers can help with the academic development of the traumatised children.
"Trauma might also negatively affect social relations, so teachers can encourage traumatised children to acquire friendships through play activities."
Donna Bowman, a special education teacher supporting marginalised children
Donna Bowman became a special education teacher because she wanted to make a difference to young children in danger of being left behind.
"I chose to be a special education teacher because I wanted to be challenged in my teaching profession," said Donna, from Missouri in the United States. "I also wanted to be able to make a difference with members of the population who seem to be marginalised."
Early learning is a crucial part of nurturing care for all children under five. But around the world millions of children with disabilities are missing out – and suffering the consequences for the rest of their lives. 
Thanks to teachers like Donna, these children are experiencing nurturing care and quality education. 
Richard Appiah Akoto, who used a blackboard to explain computers
A Ghanaian schoolteacher who used blackboard drawings to teach computer science because his farming village had no laptops found himself the star of a global conference in Singapore.
Richard Appiah Akoto, who drew coloured chalk diagrams to teach impoverished rural pupils how a PC works, rubbed shoulders with Silicon Valley hotshots in the glitzy Asian tech hub.
Akoto, who had never been outside Ghana before, was invited to the Microsoft-sponsored meet after video of his lessons went viral.
As a teacher of information and communication technology at a junior high school in the Sekyedomase farming village in Ghana, Akoto said he had to improvise because the school had no computer and his own laptop had broken down.
Shéri Brynard, who inspires children with special needs
Shéri Brynard is a teacher at Lettie Fouché School in Bloemfontein where she works with pre-primary learners with special needs.
"The children I teach all have learning problems. We have children with Down's syndrome and autism and many other learning disabilities," she said.
"They have more challenges in learning than the children in mainstream schools. They take longer to achieve what other learners find easy. We have to have patience with them and they have to have patience with themselves."
What makes Shéri's story remarkable is that she also has Down's syndrome. But that hasn't stopped her from achieving her teaching goals and inspiring children with disabilities in her native South Africa.
---
More news
Take the test and discover how our Schools Hub helps students grasp the global education crisis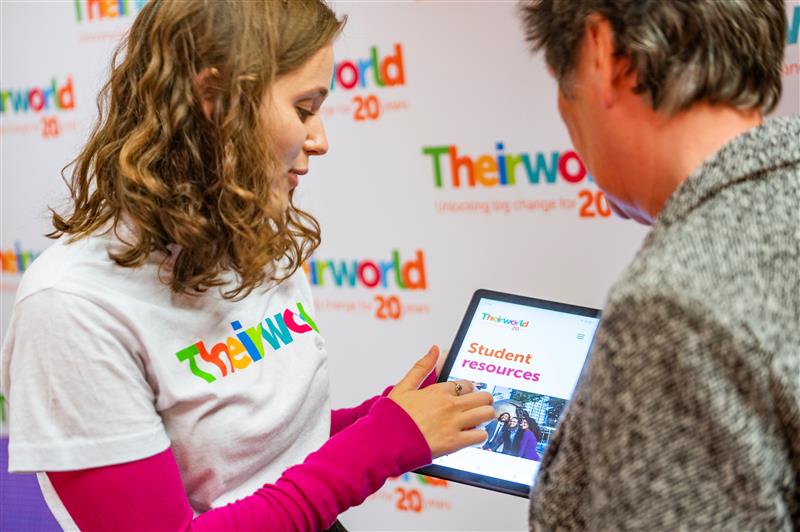 Take the test and discover how our Schools Hub helps students grasp the global education crisis
Teacher helps Harrison move from life on the street to success at school
Teacher helps Harrison move from life on the street to success at school