'World is failing to help' Yemen's war-scarred children back into school
Children in conflicts, Education Cannot Wait, Education in emergencies, Refugees and internally displaced people, Right to education, Safe schools, Safe Schools Declaration, Teachers and learning
---
Hundreds of schools have been bombed or closed - but the international community has not done enough to support education, according to Save the Children. 
---
International leaders are failing to help reopen schools and get children back into education in Yemen, according to a charity.
Save the Children said education continues to suffer greatly due to the ongoing war, with little international financial help – despite 1660 schools having been bombed or closed.
Many more schools are at imminent risk of closure because teachers have not been paid for six months. 
The charity said "not one single dollar" of the estimated $36.5 million needed for a United Nations appeal to help education in Yemen had been delivered.
As international donors met in Geneva this week, Save the Children said the world is abandoning Yemen's children in their hour of greatest need
Grant Pritchard,  the organisation's interim Yemen director, said: "During this one-day donor conference another six children will be killed or injured – the unacceptable cost of the world's failure to act. 
"As famine looms closer, funding for food and nutrition is vital for saving children's lives right now but they also need safety and a future. 
"We must invest in education and protection before we lose an entire generation of psychologically scarred and uneducated children."
Although Save the Children said the UN appeal failed to gather financing for schools, the Education Cannot Wait fund has delivered. Launched last year to aid education in emergency situations, it is funding quality schooling for an estimated two million vulnerable children in Yemen, Chad, Ethiopia and Syria -over half of them girls.
Yemen's education crisis has forced one in four children – nearly two million in total – out of school.
At least 1449 schools have been damaged by bombing and shelling – two every day of the conflict so far.
Another 143 schools have been turned into makeshift shelters for families fleeing their homes, while at least 24 schools have been taken over for military use. 
Around 73% of teachers have not received any salary for more than six months and in many cases schools are only able to stay open because teachers are working for free – while struggling to feed their own families. 
In a new briefing on Yemen, Save the Children added: "Despite the critical role of education in ensuring the development, wellbeing and safety of children, none of the $36.5 million required to provide emergency education during 2017 has been committed as of April 13, 2017. 
"Last year, the education sector of the Yemen's Response Plan received just $5.7 million – 17% of the $33.4 million required.
The report added: "Since the conflict escalated, funding from the Yemeni governing authorities for the education sector has also ceased. 
"Teachers and educational supervisors in 13 governorates out of 22 haven't received salaries for six months. This represents 73% of all teachers in the country who cover 79% of the total student population. 
"Despite this lack of pay, the vast majority of teaching staff continue to report to work – but it is unclear how long this will continue should salaries remain unpaid."
The Geneva pledging conference for Yemen yesterday delivered $1.1 billion of promised funding – well short of the $2.1 billion the United Nations says is needed just for this year. 
The aim was to bridge a funding gap in the 2017 humanitarian appeal of $2.1 billion – with only 15% met before the conference.
"We are witnessing the starving and the crippling of an entire generation. We must act now, to save lives," said Secretary-General António Guterres at the event.
Meanwhile, Amnesty International said fears are growing for the safety of children in the strategic western port city of Hodeidah – amid reports that a major offensive by the Saudi Arabia-led coalition is due to start.
As well as putting civilian lives at grave risk, an assault on Yemen's fourth most populated city would seriously disrupt the functioning of the port.
Lynn Maalouf, Deputy Director for Research at Amnesty International's office in Beirut, said that the conflict in Yemen has already inflicted "unbearable suffering" on the country's civilians, who have borne the brunt of the fighting for more than two years. 
---
More news
Take the test and discover how our Schools Hub helps students grasp the global education crisis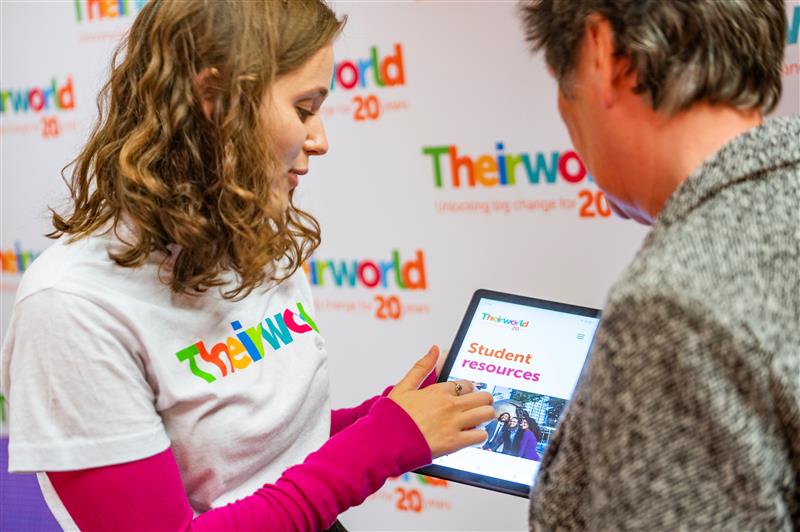 Take the test and discover how our Schools Hub helps students grasp the global education crisis
Teacher helps Harrison move from life on the street to success at school
Teacher helps Harrison move from life on the street to success at school